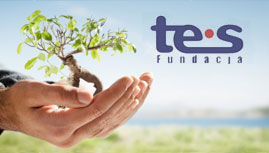 Innovation Factory

The Foundation TE-S has set up a Innovation Factory, to support projects and organizations involved in launching innovative projects based on new technologies.


Adress data changed

On 9 March 2009 adress data of Board Office have been changed.


1 % for public benefit organization

In the year 2009 you may want to transfer 1% of your income tax for a public benefit organization.


The mission of the Foundation

The Foundation Economic-Social Society is an apolitical organisation initiated in 2001. In July 2004 the Foundation received status of a public benefit organization (Organizacja Pożytku Publicznego).

The objectives of the Foundation Economic-Social Society are: organising and supporting education, chiefly in the field of economy and social sciences, promoting enterprise, initiating the presence of business representatives in public and social institutions, popularising the knowledge of economic market mechanisms, promoting Polish economic achievements within the country and abroad and acting in favour of permanent and creative incorporation of Poland into the mainstream of the world economy, supporting state and social institutions serving the purpose of preserving Polish national heritage.